Submitted by
Annika
on 28/03/2016 - 16:16.

A National Platform is one of the best ESN events. If you want to meet people with similar interests, know more about ESN or you have a hug deprivation – this is a must-go. Since NP Helsinki last autumn, I had been thinking about getting more involved in ESN, so as soon as the open call for the National Board 2016 – 2017 was opened, I started thinking about applying.
The first step, sending out an actual application, was probably the easiest. As soon as you press 'send', the wild thought comes to your mind: 'Oh-oh, what have I just signed up for?'. Then the endless e-mails with questions for the candidates appear, and it all becomes more and more real, which is scary and exciting at the same time. One of the hardest pre-NP tasks was to make a presentation about myself as a candidate. Those were the longest 10 minutes of my life in front of an empty template: what should I even write there? How can I speak about myself in front of so many people, and what if it is streamed (and yes, it was)?
Finally, the e-mails stopped arriving, but then it was time to go to Tampere and convince all the 16 sections that I am a good candidate for the position. Even though I was the only one, there is always an option to vote for 'no one', so it is not as easy as it seems! At the entrance, I received a name tag with a little sign saying 'NB candidate'. Then it became 100% real.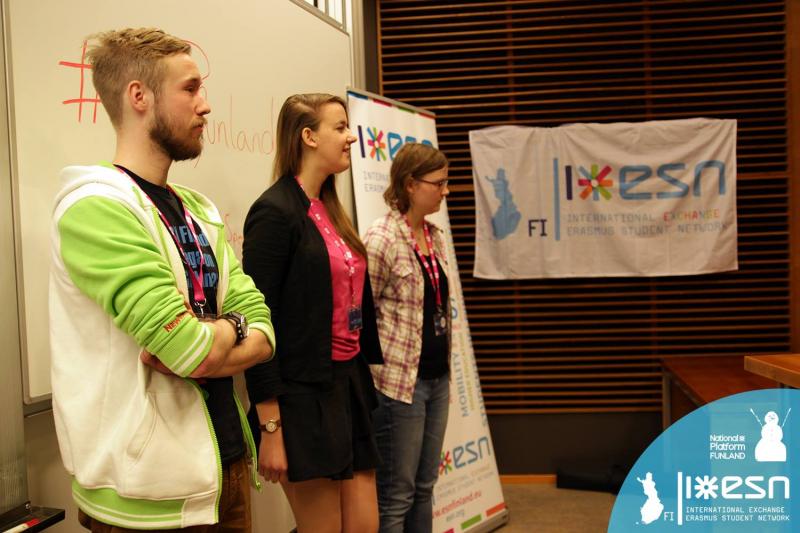 The presentation round was on Saturday. I was the last presenter, and it was probably the longest day for me: seeing other people giving a speech and answering plenty of questions in front of everybody made me a little more nervous. Finally, I got the chance to speak and show why I consider myself a suitable candidate. The fear disappeared as soon as I stood in front of the people: everyone was very nice, understanding and friendly. Having such psychological support helps a lot! At some point we were asked to leave the room, so that the rest of the people had the chance to discuss whether we are good candidates. I can tell you we had a lot of fun on the other side! A siesta workshop, Santa Claus roleplay and many other fun activities.
Sunday was the day X: elections time. Whether you get elected or not, it is just a great opportunity to share your ideas about the development of the network, get heard, show how amazing you are and get a real Funland experience!

Written by Alina Dubinina,
the newly elected Communication Manager of ESN Finland.
Alina, along with the rest of the new National Board, will start her mandate on the first of June.