Submitted by
c.diazarmas
on 04/12/2020 - 13:17.
Apples are a fruit widely available during winter. They are great sources of fiber and vitamins, and there are so many types that you can choose which variety you like better. What is more, they can also be cooked and added in desserts or other meals to pop that flavor!
Wanna know some ways of spicing up those apples? Read ahead...
How to spice up the apples
Ingredients
1 apple
1-2 tsp cinnamon
¼ tsp cardamom
1 tsp sugar (optional)
50 ml water
Preparation
Cut the apples into small pieces and add them with the water to a pot on the stove. Add cinnamon, cardamom and sugar, mix and heat using medium heat.
Let the water boil and keep mixing for about 10 minutes or until the apples are cooked (poke them with a fork to see if they are getting soft).
Enjoy them as they are or use them in other recipes like apple tarts, oatmeal, or more (see below for the tarts and oatmeal recipes)
Tip. Adjust the amount of spices to taste.
Apple Tarts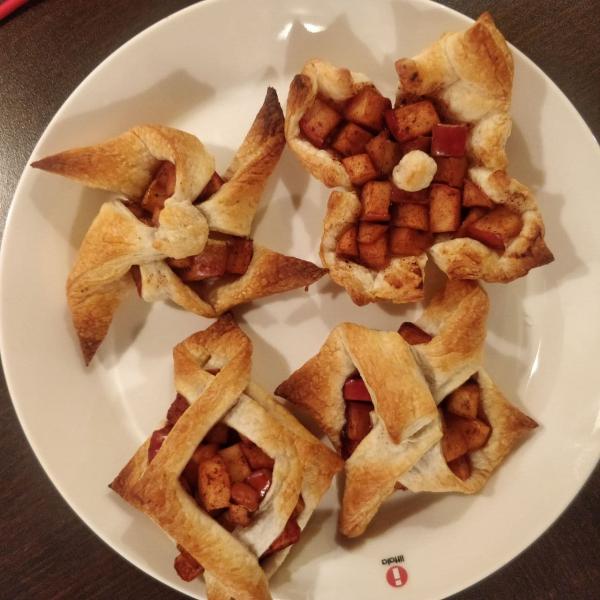 Ingredients
Cinnamon apples
1 sheet (100g) puff pastry (can be found in the frozen products aisle)
Preparation
Preheat the oven to 220ºC. 
Thaw the puff pastry and roll it to make a thin layer. With a knife cut it to rectangles (approx 4 from one sheet). Take a spoonful of cinnamon apples and spread it on a rectangle. Cover with a second rectangle and seal them together with a fork. 
Bake at 220ºC for 10 min and enjoy! 
If you want a challenge and more tarts from the same amount of pastry, choose the design you want for the tarts from the picture and do the cuts shown there. Fold as indicated, and bake at the same temperature and time.
Each of these shapes correspond to the respective rectangle when looking at the other pictures
P.S. If you need help, feel free to message us in our Instagram :)
Oatmeal
Ingredients
1.5 dl oats
3 dl water/milk/plant drink
Cinnamon apples to taste
Berries to taste (frozen berries are easiest to find)
Preparation
Add the oats and liquid on the stove on medium heat. Stir occasionally to avoid it sticking to the bottom. Cook for approx 10 min. For a super smooth porridge add the oats into cold water and cook on a low to mid heat for 15 min. Mix the berries if you want them to thaw and be integrated into the porridge. Else, serve in a bowl and decorate with the apples and berries.
Optional. Add other fruits, like bananas or pears, and seeds or nuts if you want extra nutrients and flavor.