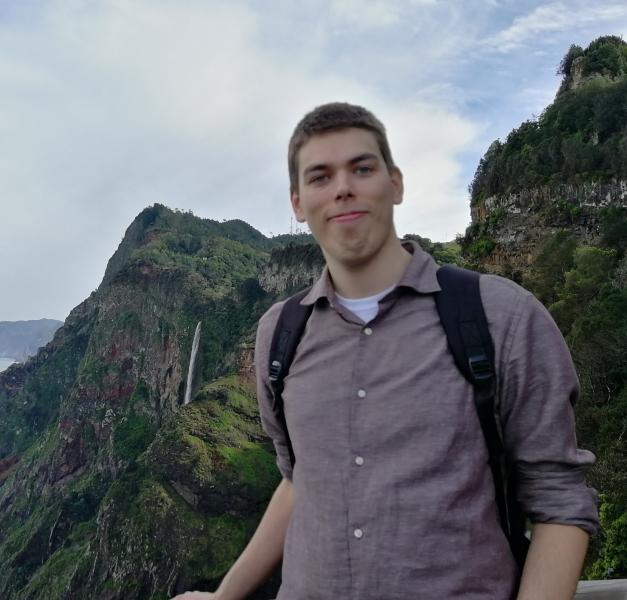 Toni Tamminen, President
president[at]esnfinland[dot]eu
"Hello everyone! I'm Toni, a soon to be MSc in Biomedical Engineering of Aalto University and a future M.D. and M.D. PhD of University of Eastern Finland. My ESN story began in 2013 in ESN Aalto as an active member. I was later inspired by the experience to take up a non-Erasmus exchange two years ago in Mumbai, India. I have learnt so much new and been tested by challenging experiences, both in ESN and outside of it.
This is now my third mandate in the National Board. The first two years were incredibly fun and rewarding, having built many new contacts and building up my knowledge on ESN and field of education. This year I will strive to create an inclusive environment both in the Board and within sections. I am also hopeful in improving the position of ESN Finland within the field of education in Finland, establishing new national stakeholders for collaboration and mutual dialogue."
---
Anna Sandt, Vice-president
vice-president[at]esnfinland[dot]eu
"Hello! My name is Anna, and I am soon-to-be M.Soc.Sc in Tourism, Culture and International Management of University of Lapland. I first joined ESN in 2016, when I was elected as the Vice President and Local Representative of my local section, ESN Lapland. After some time I decided that I wanted to contribute more, so I joined the National Events Committee of ESN Finland (NEvCo), and after one mandate in NEvCo, I felt like I still had more to give for the network, and that's when I applied for the National Board. And here I am now! 
During my studies I have worked a lot with international students and students affairs, so after my exchange semester in Ireland and intership in Canada, it felt normal that I would seek something where I could utilize my passion for mobility and students affairs. Luckily I came across with ESN, because, boy, it's been absolutely fantastic to work together with people who share the same values and passion! 
I am very much people person, hence network care is very suitable task for me and my position. Do not hesitate to contact me about anything! I'm happy to meet new people and help everyone with their questions about ESN in Finland!"
---
Noora Hautala, National Representative
finland[at]esn[dot]org
"Hello, everyone! I'm Noora, and I'm studying my master's degree in Comparative Cultural Studies at the University of Vaasa, although being one of three Tampere residents in our board. I joined ESN in Vaasa in 2013, and since then my interest towards the network has been steadily growing. After four years in the local level, I moved on to new challenges at the national level, and this is now my second mandate in the National Board. My studies have also included exchange semesters in the Czech Republic and in China, and one of the things keeping me in ESN is feeling the same international atmosphere while staying in your home country."
---
Kingsley Aliche, Treasurer
treasurer[at]esnfinland[dot]eu
"Hello everyone, my name is Kingsley, I am studying general toxicology and environmental health risk assessment at the University of Eastern Finland. I have previously been a board member of ESN KISA as the sports coordinator and been active in various forms of events that has helped improved life of Erasmus students coming down to Kuopio."
---
Sajed Rabbani, Communication Manager
communication[at]esnfinland[dot]eu
"Hey there! I'm Sajed (Known as Oni) and I have finished my MSc. Photonics this year from University of Eastern Finland, Joensuu (a lovely city from Finland, which is known for lakes and forests). Originally I am from Bangladesh, however I decided to change my life and use the chance to study in Finland and Here am I, travelling Europe for Erasmus+, internship and of course ESNing. 
After almost two years in Local level, from ordinary active member to President, and one mandate in NEvCo, I realized that I can make a change on the National level as well, or at least contribute all my knowledge for making ESN Finland even better :) And I failed to leave Finland (or Finland fails to leave me, as people noticed that I started having Finnish accent in English).
---
Hassan Merghani, Partnership Manager
partnerships[at]esnfinland[dot]eu
As my name suggests, my name is Hassan. So greetings, y'all. I'm a person who likes to (brace yourselves, cheesy classics incoming!) travel the world, meet new people, get to know other cultures, and try out different dishes all the time! In reality though, I try to do the aforementioned luxuries only when my budget and time permit. I like to pretend that I speak every language on earth, and I'm starting to believe that I actually do.
I'm currently finishing a Master's degree in Information Systems Science + Entrepreneurship. In my professional life, I aspire to create the next big thing in technology and to bring people from each side of the pond together to create magic, hence my position as Partnership Manager.
My ESN journey started with my home section ESN Uni Turku, which has been and will always be my inspiration to continue giving for ESN. #NeverForgetYourRoots.
I hope to keep ESN Finland as a healthy and attractive partner by ensuring mutual benefits for both our partners and the wider ESN network. How? By understanding people. It's that simple.
---
Roman Hyvönen, Web Project Administrator
wpa[at]esnfinland[dot]eu
"Hey! My name is Roman, and I am the IT guy of this NB. I study IT, business and management at the Lappeenranta University of Technology. My ESN journey began in 2015 in my home section, ESN Lappeenranta. After being the local president and IT responsible of NEvCo, I decided to challenge myself by applying to the National Board. One of my main tasks is to keep the section websites running. My work is invisible when everything works, but I'm the one everyone needs when things fall apart."
---