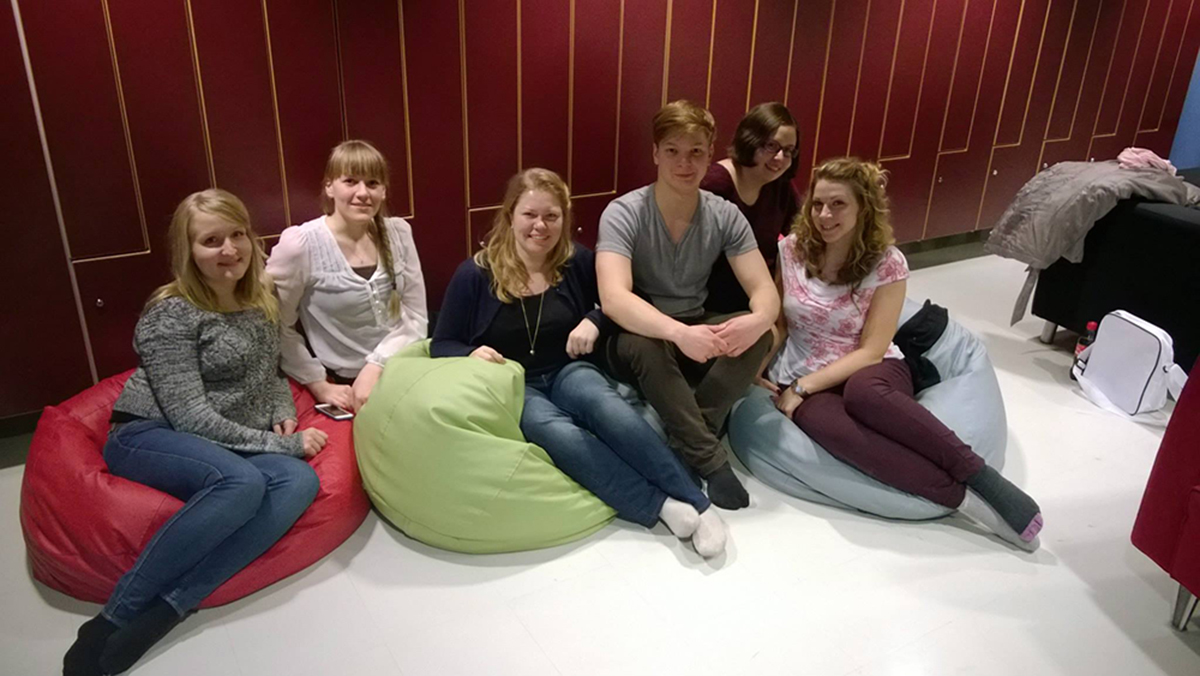 From left ro right: Matleena, Heini, Salli, Stanislav, Iris, and Jutta.

President: Matleena Heikkinen (ESN Jyväskylä), matleena.heikkinen(at)esnfinland.eu
"Hey all! I'm Matleena, originally from Kajaani, but settled for Jyväskylä to study to become a foreign language teacher. It's my sixth year at the University of Jyväskylä and besides ESNing, I'm at the moment writing my master's thesis and working as a teacher in a primary school. Late 2013 I was very honoured to be elected as the National President for ESN Finland for 1-5/2014. So far it has been challenging, yet rewarding, and I'm grateful for this chance to do my best to contribute to the Erasmus Student Network in Finland."

Vice-president: Salli Soini (ESN Uni Turku), salli.soini(at)esnfinland.eu
I'm Salli and I'm the vice-president, as the title says, but I'm also the partnership responsible of ESN Finland. I'm currently 5th year management student at Turku School of Economics and writing my Master's thesis whenever I have time from ESN. I like traveling (who doesn't), listening to music and getting to know new cultures. I'm originally from ESN Uni Turku, the best section in Turku!
National Representative: Heini Jyräkoski (ESN Jyväskylä), heini.jyrakoski(at)esnfinland.eu
"Griass di! I'm Heini, a girl who learned how to drive a tractor and ride a pig before talking. I've been conquering the world since I was 7 years old but in my heart I'm always gonna be the small town girl who loves her 3 nephews and 3 nieces more than anything in the world! Nowadays I'm studying Deutsch, svenska, intercultural communication and pedagogy in Jyväskylä which means that I'll be a language teacher! I love travelling and doing sports and especially cross-country skiing and snowboarding/skiing are close to my heart which might reveal that I L-O-V-E winter! I also love to be surrounded by international-minded people which is why I've gotten involved in ESN and at the moment I also keep myself busy as the National Representative of ESN Finland."
National Section Coordinator: Jutta Pietiläinen (ESN-HYY Helsinki), jutta.pietilainen(at)esnfinland.eu
"Hei all,I'm Jutta, a forever-student of Veterinary Medicine in the University of Helsinki. I joined ESN-HYY Helsinki in the end of 2005 and have been hooked ever since. I did my Erasmus exchange in Villanueva de la Cañada, Madrid and a partial Erasmus placement in Messina, Sicily. Few nights a week I turn into a professional black jack dealer and I'm one of those people who consider my 1,5 dogs my babies."

Treasurer: Iris Kivimäki (ESN HELGA), iris.kivimaki(at)esnfinland.eu
"My name is Iris Kivimäki. My section is ESN HELGA. I study International business at Haaga-Helia University of applied sciences. I joined ESN in 2012 as ESN HELGA tutor but already at then beginning of my tutoring joined ESN HELGA board as well. Currently I am also board member in my local section."
Webmaster: Stanislav Belov (ESN KISA), stanislav.belov(at)esnfinland.eu
Hello, My name is Stanislav I study Information Technology in Kuopio and it is my third year in  Finland. I come from Russia from city called Petrozavodsk, most Finnish people now the city as Petroskoi. I joined ESN in 2012, I have been sports coordinator, events manager but my current positions are treasurer in ESN KISA and I am also on the IT Manager in National Board. I really like ESNers, I think they are the best people you can meet, that's why I like to work for ESN network. As for me, I like cooking, sports and active way of life. May be you will be lucky and one day you can experience my cooking skills.